Live tracking – DJ hire near me
At Only DJ's we believe in innovating the industry, we now offer live tracking on the day of your event, so you know and can check when your DJ hire is near you. We have always been an innovative firm, in 2003 we were one of the first DJ companies to use laptops to DJ, bringing over 3,000 individual track to events we performed at. We know it can be very stressful on the day of your event wondering, is my DJ hire near me yet? Because we understand the pressure you're under on the day of your Birthday, wedding, engagement or any other event we aim to make it stress and hassle-free with the option to see where we are in real time.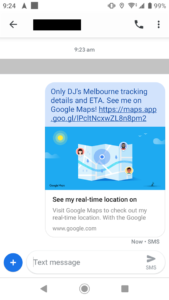 How does Live tracking work? How do I know when my DJ hire is near me?
Our live tracking is operated through Google maps. On the day of your event, our DJ's will send you one SMS with the link to see our live location and estimated time of arrival (ETA). All you will need to do is click the link and open it up in Google Maps. Google Maps will give you our real-time position and our estimated time of arrival that will change due to traffic conditions. You will now no longer have to ask yourself, is my DJ hire near me yet?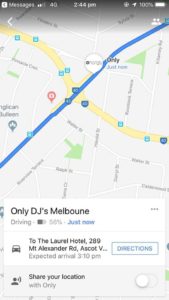 Do I have to pay extra for live tracking and to know when my DJ hire is near me?
No, you don't! We want to give you the best experience possible and we would never consider charging for a complimentary service that comes with every one of our bookings. Our job is to make sure your function is as stress-free as possible and provide you with a consistent amazing service you deserve.
Contact us for a quote or if you would like further information on our tracking system please click here for our contact us page or call us on 0424 865 326.