About Us
Our commitment to quality
We are not called Only DJs Melbourne because we are the ONLY choice for quality DJ hire in Melbourne. We are called Only DJs Melbourne because we only DJ for a living. James has committed over half his life to constantly improving his mixing skills to be the best DJ he can be and to pass this knowledge on to the entire team.
James is the Only DJ in Melbourne to have completed an MBA (Masters of business administration) and applied all the learnings to Only DJ's. We are focusing on excellence and consistent quality, in an inconsistent industry. James's commitment to DJ-ing means no matter what, you will have a fantastic experience.
We also pride ourselves on having great cable management, we understand that cords everywhere for an event is very unsightly so that's why we ensure our DJ's always keep their consoles as clean as possible.
Our innovations
At the age of 13, I attended a number of family weddings, I saw that the DJ's were always frantically trying to find the next song to play. Under those circumstances, they would occasionally disappoint someone when they didn't have their song request.
We saw a problem that we could provide an innovative and new DJ service. We had a vision that we could have thousands of songs available at the click of a button and bring this innovation to event hosts. Since 2008 we have offered a unique DJ service with onsite downloading of any song you might need. We have a large collection of music to suit any function and in most cases, we have the songs requested.
Our first event
Our first ever function was 29th of March 2003 for a 16th birthday party, since then we have performed at over 1000 different events. After our very first event, we marched up to Allen's music which was located off Cotham Road in Kew, purchased speakers and an amplifier and carried them one by one all the way home at the very end of Derby Street. Our speakers and setups have changed over the years but our commitment to quality DJ hire hasn't.
Our commitment to fair pay for DJ's
We pride ourselves on going against industry standards, firms that own all their equipment pay their DJs minuscule amounts for their DJ performance, being paid as little as $200-250 dollars per performance. We pay our DJ's up to 80% of the booking total because we know that their commitment and dedication to your event makes them the best in the industry.
The future and how we are innovating the industry
We are still endeavouring to pioneer the DJ industry and we are the ONLY DJ firm in Melbourne that offers live tracking on the day of your event. Please click here for more information.
Our vision is to provide a one stop website of helpful information for all events to make planning any event easier than ever before.
The Only DJ's Australia Community & Network
We have a long term goal to create a greater community of DJ's to help improve the quality of DJ in the industry with endorsements and benchmarks to ensure that all DJ's are of the high calibre that clients expect.
We are aiming to endorse only the best DJ's in Australia and assure any clients that an endorsed ONLY DJ member is one that you can trust.
What we will be providing for our endorsed DJ's.
Training in OHS, Cable Management, Sound & Lighting, Customer Service and more
Discounts with essential services including insurance agencies & tagging and testing firms.
Discounted website design, SEO, SEM & Social Media advice
Terms and conditions to ensure they and their clients are protected as a DJ firm.
Covid Safe plans and endorsements for DJ's who complete this training.
OUR NEW MISSION AFFORDABLE CONSISTENT QUALITY MOBILE DJ HIRE
Our mission is to offer a quality consistent mobile DJ hire service.
We are achieving because all our DJs have:
The same speakers.
The same lights.
The same music collection.
All our DJ's go through rigorous training and recruitment processes so that we only have the best DJ's working for us.
Our main disk jockey's and business owner James Ellis also know by the stage names D.TRAK and J'ellis have had the pleasure of being supporting acts to Daniel Kandi who ranked in the DJ magazines top 100 Disk Jockey's and also David Deejay ranked number 1 in Europe in 2011. Our disk jockey's have developed a wide range of skills suitable to meet your function needs. If you would like to listen to some of his recordings please check out their SoundCloud page.  So whether you need a wedding DJ or just a DJ near you we are here to help.
About our Two hour response Guarantee
James the business owner comes from a customer service department manager background, holding positions with both Godfreys and Tyresales in a leadership role. At Godfreys he was in charge of the department customer service operations for all of Australia and New Zealand. James aimed to instil the quickest response times for customers to ensure that they always get speedy and clear communication. James and Only DJ's Melbourne have created a culture based on quality and great communication.
We will answer any enquiry between the hours of 12PM-10PM Monday to Friday.
Saturdays & Sundays may experience a longer wait time but you will receive confirmation or short email acknowledging that we will get back to you.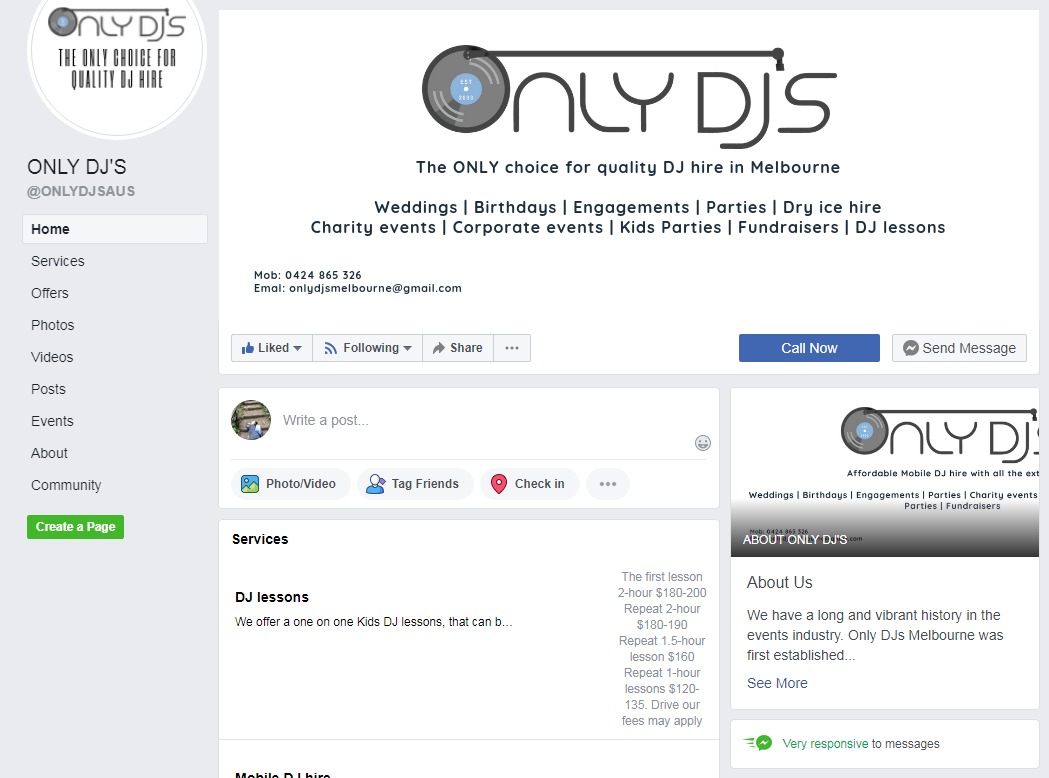 Coming soon to Only DJs Melbourne
Presently, we are looking at new innovations to give our customers, more to come.
If you are interested in our history a novel is being released in 2020, The Diary of a Disk Jockey. The book is based on the fun and crazy adventures that only a Disk Jockey can experience.
If you would like to browse some of our previous events or to check out our affordable wedding DJ in action please go to our recommended venues & gallery pages.
Vision statement
To provide exceptional music and offer the best value for money and quality mobile DJ hire for all our clients in Melbourne and Geelong.
Mission statement
To provide exceptional service at every event, whilst proving value for money and quality mobile DJ hire to the greater Melbourne region.
Core Values
Passion – our passion is for music and playing great music.
Reliability – we will always complete our customer's events no matter what.
Creativity – we create a night to remember.
Exceptional – we offer exceptional service for every event.
Fun – we aim to make every event fun.
Value – we aim to offer the best value for money/quality Mobile DJ hire.
Our Philosophy
Our philosophy at Only DJ's Melbourne is that we are here for you. We will advise you on options but at your performance we will do whatever it is that you request because we are performing to make you happy.