We only use licensed technicians for all our special FX
Flame throwers – Special FX
Flame throwers special effects is one of the most entertaining and exciting ways to make an entrance.  We have moving flamethrowers we can hire out with a licensed pyrotechnician to take your event pyrotechnics to the next level.
Our Indoor flame throwers Fx can even come with coloured fire.
Our Flamethrower FX can be combined with other effects to light up your night even more, one great option is adding it with dry ice effects.
Flamethrower effects are a great combination with other effects
Spark Fall Special Effects
This marvellous effect is the greatest way to make an entry when being announced as Bride & Groom.
This effect can be used for heaps of different entries. You can use it to emphasise the entrance of special guests or entertainer so that your audience experiences that wow factor.
For more firework inspiration please check out our Dry ice effects & Fireworks page.
Smoke Wall Wedding Special FX
Smoke wall – Special FX
A smoke wall is a great special effect that you can use to enter your venue in style. With the smoke wall, we can add other lighting effects to make it even more outstanding.
We can add either a professional laser system to write your Initials, your date or a love heart in the smoke wall just before you enter.
We can also add blinder lights, where we make the venue go black and then use our blinders to flash to give you the movie star entrance.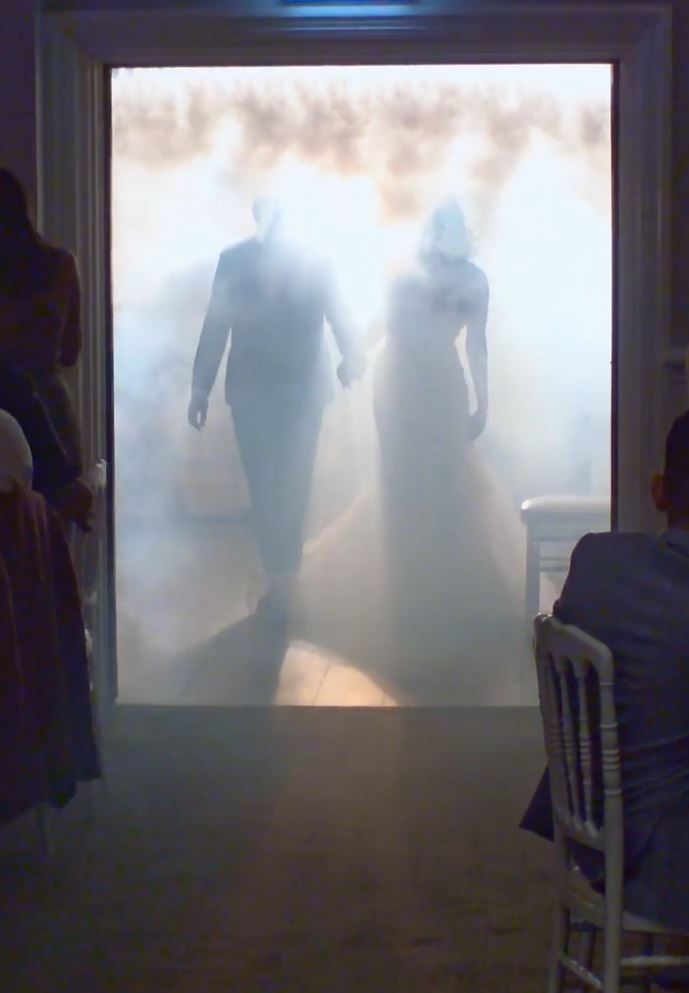 Book a DJ to Receive a Discount Off Special Effects
Sparkler Send-off What a Way To Exit
Sparkler Sendoff Special FX – 50 CM Sparklers
Sparkler sendoffs are so much fun. As a groom who purchased this effect myself for my wedding, I did love it and the photos and video we got from using this.
You can purchase our 50cm Sparklers in groups of:
20 for $39.95
40 for $64.95
60 for $89.95
Please remember to light them 4 at a time so that they don't run out too soon.
Co2 Cannons & Guns
If your venue doesn't allow you to use fireworks we can work around this with our Co2 cannons effects. CO2 Cannons can be used for your grand entrance and you can walk right through it.
We can do multiple shots for each member of the bridal party or just one big shot for you.
Confetti Cannons, Blowers & Guns – Special FX
Who doesn't love confetti at a wedding? We have a wide range of confetti machines available for your ceremony, entrance or first dance.
We have a wide range of confetti machines to suit every type of venue including:
Confetti cannons
Confetti Blowers
Confetti Guns
Confetti cannons are a single shot that packs a punch.
Confetti blowers are a continuous effect that can travel up to 5m until the confetti is used up.
Confetti guns are single shots that are highly mobile meaning we can get confetti at that very moment you want it.
Snow, Foam & Cloud machines FX
Foam, snow and cloud machines are a fun way to make your event stand out and be memorable.
Cloud machines are something special, we can make love hearts and other amazing figures that float off into the clouds.
Our snow machines can make a winter wonderland for your entrance.
Bubble machines Special FX
Bubble machines really can make any event fun. Bubble effects can be used for so many different parts of your event. Bubble machines are more covid safe than having people blowing bubbles plus you get a lot more bubbles.
You could use bubble machines for:
Ceremony Exit
Cake Cutting
First dance
Entrance
Father Daughter dance
Your Exit